Nike, Smart & Final Extra, Ross Dress for Less and Blink Fitness have all signed leases at Primestor Development's Jordan Downs Plaza, a mixed-use project in Los Angeles' Watts neighborhood.

The four retailers will occupy nearly 75 percent of the retail component of the $5 billion project.

Situated on 9.5 acres, the 113,000-square-foot asset is scheduled to be completed in Fall 2019. At full build-out, the property will also offer 1,400 residential units.
The Los Angeles LGBT Center opened its doors to its newest campus on Sunday, the Anita May Rosenstein Campus. This center is the world's largest LGBT organization.

"We are immensely proud that the Anita May Rosenstein Campus allows us to greatly expand our services, especially to LGBT seniors and youth," said Los Angeles LGBT Center CEO Lorri L. Jean. "The Campus is proof that a committed group of people who have the audacity to dream big and work hard are capable of creating something the world has never seen, something that now stands as a testament to the fact that we will not turn back in our march toward full equality and humanity."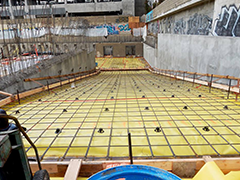 After decades in the making, the Paul I. Terasaki Budokan community center will become a reality in Los Angeles' Little Tokyo neighborhood.

The Budokan community center will provide the Little Tokyo community with a safe place to gather, learn about Japanese culture and play sports. "This facility will also provide a space for recreational and afterschool program opportunities for local, low-income youth of all ethnicities–which is sorely lacking in downtown neighborhoods," said Erich Nakano, deputy director of the Little Tokyo Service Center.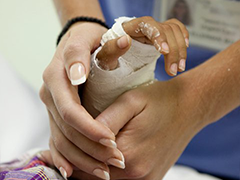 Construction has begun on the new medical pavilion at Orthopaedic Institute for Children, the centerpiece of the hospital's "Vision for Our Future" campaign, which will ensure that OIC's surgeons, doctors and nurses have the best facilities and equipment to care for the increasing number of children who come through its doors.

The new medical pavilion involves a major reconstruction and reimagining of the OIC 1959 Lowman Building to transform it into a world-class pediatric facility. Housed within the new medical pavilion will be an expanded urgent care center and pharmacy, the nation's largest pediatric fracture clinic, a new physical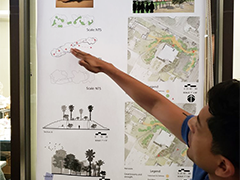 On a crisp October day, second year college students in the Department of Landscape Architecture at Cal Poly Pomona gathered excitedly to present their midterm projects to a panel of jurors, including Heart of LA (HOLA) CEO Tony Brown and Founder Mitch Moore. The studio walls were covered with 74 landscape renderings of an entryway sequence for HOLA's iconic new Arts and Recreation Center, located in Lafayette Park.

"When I walked in and the walls were filled of HOLA renderings, it was overwhelming like a wave washed over me." Mitch recalled, "I was really blown away. It was more than a class...
Not many people would think of going to a kitchen to heal, but one man's amazing mission has turned cooking and serving others into a tried-and-true therapy. Visionary Robert Egger founded LA Kitchen in 2015 with a simple, yet challenging and powerful goal: neither food nor people should ever go to waste.

This 20,000-square-foot facility just north of downtown Los Angeles accomplishes that mission and then some. From turning reclaimed food into meals for social service agencies to running a for-profit business, which uses "imperfect" food to make healthy products for sale, this bustling operation is transforming the